We are absolutely delighted to announce that the Bedfordshire Charitable Trust (BCT) have pledged an extremely generous donation to Bedford Hospital Charity & Friends (BHC&F) of an amazing £800,000.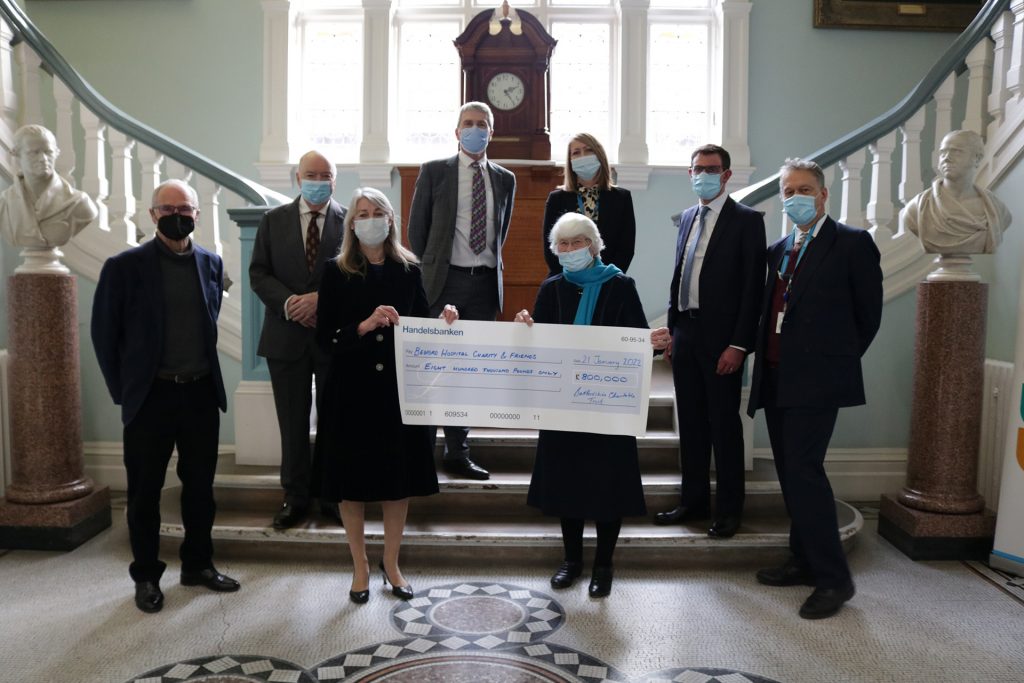 This is to celebrate the life of Clifton Ibbett OBE who very sadly passed away last May. BCT, formerly known as The Ibbett Trust, was founded by Clifton Ibbett and his parents Claude and Gladys Ibbett in 1964.
Clifton was a great advocate of the BCT's aims which include actively supporting 'the advancement of health or saving of lives' and 'education and training'. Shortly after Clifton had died, Deborah Inskip (Chairman of BHC&F), was invited to meet the trustees of the Bedfordshire Charitable Trust to discuss their desire to support the CT scanner part of the charity's '£1m for Bedford A&E' appeal as a permanent recognition of his life.
Over the last few months, the two charities have been in close discussion and together, towards the end of 2021, were hosted by the A&E specialists and senior executive of the Bedfordshire Hospitals Trust, on a visit to view the extended and re-developed A&E department. The visitors were all amazed and delighted at the fantastic improvements that had already been wrought. During this visit, the trustees of BCT spotted additional areas, in the evolving A&E department, to which they felt they could also add their support to make improvements and give facilities, particularly for education and training, over and above those already planned. This is hugely appreciated.
Margaret Ibbett, Clifton's widow, said:
"This donation recognises the genuine love Clifton had for Bedfordshire and its people. His deep and personal interest, underpinned by Christian faith, in improving people's lives was clear to all who knew and met him."
Deborah Inskip added:
"It has been an absolute pleasure to work closely with the Trustees of BCT as they moved towards the decision to make a significant donation in Clifton's memory. Clifton was a very dear friend to so many of us and gave so much to many aspects of life in this county, it's wonderful that his life is being celebrated in this way. I can certainly feel his gentle, generous and guiding hand in all that you are doing. Immense thanks and gratitude from us all."
The installation of the new CT scanner and completion of developments for the A&E department are, very happily, likely to come to fruition this Autumn. David Carter, CEO of the Bedfordshire Hospitals Trust, commented:
"We are so grateful to the Bedfordshire Charitable Trust for giving this wonderful donation in Clifton Ibbett's memory and we are so pleased to acknowledge this incredible generosity by naming the new CT facility 'The Clifton Ibbett Suite'."